broadcast selector
ONLINE SCHEDULING SOFTWARE
FOR TV AND RADIO BROADCASTERS
Broadcast Selector is a web based scheduling system created for TV and radio broadcasters. Great amount of automation functions, media management, video previews, metadata management, categorization, music video rotation goals, long term planning, playout integration and many more! We are web based, so you can plan your playlist wherever you are!
Why choose Broadcast selector
We offer professional 24/7 support via phone and email for all our clients.
Programme planning
The programme is planned using blocks which are placed on specific date and time to calendar, where many custom properties can be defined. Blocks can be made of media files, notes, secondary playout events (such as logo switch), or automated fill in functions. Everything you need to do is just drag and drop items into the block. You can define various filters and set rotation goals. Media can have daytime validity settings so you don't have to think about station jingle rotation through whole playlist when using autofill plugins.
EXTRA Features
Direct block planning
Calendar mode planning
Templates support
Drag and drop support
Keyboard shortcuts
Block states, groups, coloring
EPG data management and export
Detailed block content planning
Autofill functions
Complex filtering functions
Select by name, category, interpret, metadata etc.
Gaps autofill by definition
Multiple rotation rules for music or other media
Secondary events planning, such as logo etc.
Live events, playout events such as matrix switch
Subblock planning, commercial blocks
Running orders loader for commercials
Playout integration, automated playlist exports
Storage to playout file delivery
As-run log automatic import and comparsion
Tryout a free demo
Leave a message and we will arrage remote presentation and give you an access!
Media management
Media library is automaticaly synchronized with your file based storage. Broadcast selector provides low resolition media copies, which can be previewed directly in browser, where you can perform trimming and virtual cutting using original timecodes. You can manage digital media properties, cuepoint, validity settings, categorize media into multiple categories, add tags, rights, EPG data, other metadata, run logs and many other. We provide automatic format checking for playout, so you will always know that files in playlist are in correct resolution, framerate, field order, audio sample rate, codec etc.
EXTRA Features
Low resolution preview with original timecode
Media property editing
Validity settings
Tagging support
Volume adjustment
Multiple categories assignment
Music media management
BPM management, demand weight
Performers, albums and artists management
EPG data management
Digital rights management
Custom metadata
Thumbnail preview
Online trimming and virtual cuts
Valid playout format checking
Secondary events
Run logs, planned versus played
Bulk editing in treeview
Automatic synchronization with file storage
Do you know that Broadcast Selector speaks all languages?
Music selector
and media rotation
Broadcast selector has unique function, that automates rotation of media, when you are using autofill plugins. You can define complex rotation goals based on performer, album, category, artists, or just by simple clip ID. You just define, that you want to play media from category "Jingle" or "Station ID" and selector automaticaly filters these media files and selects the best clip according to rotation goals. Complex filtering allows you to be very precise when selecting the group of files, so your music TV or radio station will have great a sound according to you music editor needs. You can change rotation goals on the fly, when defining block, what makes us unique on the market.
EXTRA Features
Autofill duration or specific number of clips
Selection based on category, performer, songname
folder, filename, metadata, tag, duration, age, BPM etc.
Complex filtering with AND / OR logical joins
Rotation goal definitions
Spread clips by performer, clip ID, clip name,
category, artists, album, song name etc.
Rotation restrictions per time
Selecting goals on the fly
Demand / balance adjustment for clip, performer etc.
Online preview of generated playlist or block
Performers, artists, publishers, albums management
Turnover statistics
Played versus planned statistics
Broadcast Selector is playout independent solution with easy integration.
Playout integration

Broadcast selector is a playout INDEPENDENT solution, as an output is the playlist file, which is can be fully customized. Broadcast selector can directly update playlist on the fly using playout's API [ej pi: aj], so last-minute change can be done very easily. Plugin for unattended playout monitors and notifies you of any errors via e-mail, SMS or a phone call. It monitors files, format, start of scheduled programs, missing or incomplete files etc. As we are the distributor of the PlayBox Technology solutions, we recommend a Channel in a Box which is a turnkey playout solution for broadcasting a TV channel.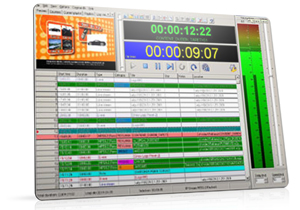 We offer professional 24/7 support via phone and email for all our clients.